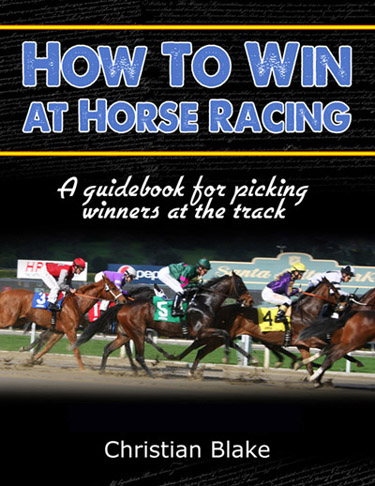 For Beginner Handicappers | 11,000 word PDF Document
Available for immediate download after purchase.
How To Win At Horse Racing
My name is Christian Blake and I've been handicapping for several decades. After writing my first book about horse racing, How To Pick Long Shots, I decided to write another book for those who don't know a thing about the game but are interested in learning.
How To Win At Horse Racing explains the fundamentals of handicapping in an easy to read, no-nonsense format. This extensive tutorial covers the most important aspects of the game. Written with the beginner in mind, I've created a 21 step tutorial that teaches how to analyze the races. My book includes a step-by-step handicapping process for the beginner, the intermediate player, and the professional. How far do you want to go with your handicapping - do you wish to pick a few winners every weekend with your friends? Or do you dream of becoming a professional handicapper and earning a living from the races? The choice is yours. My book explains how to succeed at any level. (click here to view a 10 page PDF sample of the book).
You'll learn about the following:

Class levels
Terminology
Money Management
How to pick winners
How to spot the losers
First time Lasix
Layoff horses
Video replays
Trip Handicapping
Step by step handicapping process for beginners
Step by step handicapping process for intermediate level players
Step by step handicapping process for those who want to play like a professional

BONUS #1

- How to win big on the Pick Four with small bets

BONUS #2

- Long shot horses that often win and are easy to spot

Some of the horses I've picked:

| | | |
| --- | --- | --- |
| Deity $24.20 | Whilly Pink $16.60 | Prime Issue $13.20 |
| Pocket Prince $91.00 | Hoosier Diddy $11.00 | Cherry On The Cake $17.40 |
| Black Tornado $12.20 | Bound for Eden $15.60 | Warren's Hornblower $10.40 |
| Tummel $18.40 | Egg Drop $14.80 | Peppery $30.60 |
| Wild In The Saddle $19.60 | Snackable $7.20 | Skattle Seattle $17.20 |
| Kid Stuff $35.20 | Lil Barbie Doodle $13.60 | Swiss In Paris $12.20 |